This is an old revision of the document!
---
CAN-GCA modules are based on, and compatible with MERG CBUS which is based on the industrial CAN Bus.


The very high noise immunity is achieved by ensuring that the differential impedance of the bus is maintained at a very low level using low value resistors (120 ohms) mounted at each end of the bus.

On all CAN-GC boards this termination resistor is already mounted and can be activated by setting a jumper.
The best suitable cable for connection between all CAN-GCx modules is CAT-5 cable, mostly known as CAT-5 Patchkabel cable.
Almost any computershop or DIY Market sells this cable for pretty low prices. (e.g. Reichelt 4X2 AWG26/7-10)
DB9
Pin
Function
CAT-5 color
Remark
1
GND
brown/white
6
GND
green/white
mandatory¹
2
RailSync-
orange/white
ORD-3
7
CANL
blue/white
mandatory¹
3
Loconet
green
optional for mixed systems
8
CANH
blue
mandatory¹
4
RailSync+
orange
ORD-3
9
Not used
5
+12V supply
brown
mandatory¹
¹) Minimal cable configuration.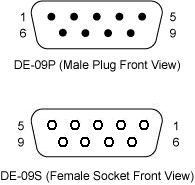 Pin 2 and 4 are only needed when ORD-3 booster is used in the same system.
Changing wire colours could cause errors.


For testing and small layouts.
Standard full wired male to female extension RS232 cables are allowed, but up to a certain limit. (e.g.: Reichelt AK2300)
It is never experienced how many can be used. A few will not disturb the communication, but it is not able to conduct the full 3 Amp of the CAN-GC1(e).