Maintain stationary DCC decoders and use RocPro to program.

Record Rocview user interaction for play back purpose.

Show current, voltage and temperature in a scope like panel.

Alternative throttle with icons.
Creating trains on the fly with automatically calculated length for use in blocks and routes.

For fine speed step control a new option has been added to use buttons instead of a slider.

Roco Z21 support with the new LAN protocol.

Analyzer: Reorganized extended plan checks and clean. Added action and action condition checks.

Compose a block trip by Drag & Drop.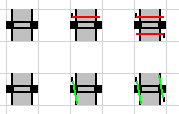 Support for railroad crossings with any number of tracks.

Create temporary Loco objects for guest Locos with the andRoc mobile client.



→ Goto previous news page 2012
→ Goto previous news page 2011