Beeing an exact copy of the Minibox, the GCA110 DCCcentral needs a display and keyboard. This unit provides that.
Since it is not sure , what kind of keys will be used (looking for cheap selection), this is only a brief documentation of the matter.
Any suggestions are mostly appriciated.
The keys on the picture are from my junk stock, dismounted from old cicuits.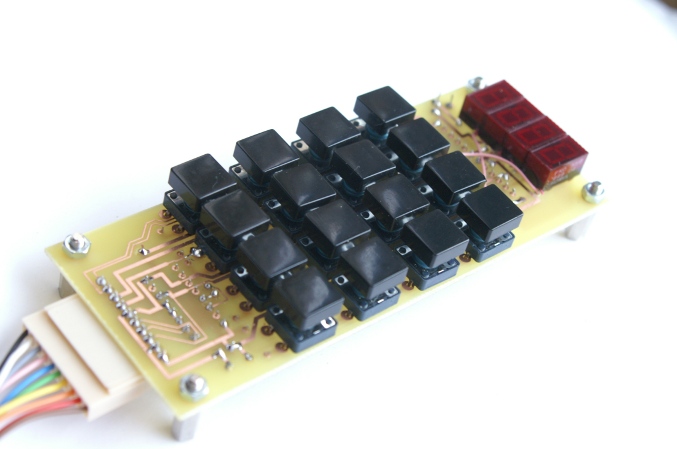 The original PCB is much smaller than the GCA110.
To make it possible to mount the board right on top of the GCA110, to the same fixing points, the PCB design has 4 extra fising points. If not needed, the PCB can be minimized to the necessary size.
No further firmware is needed in this unit.
| | |
| --- | --- |
| R1 | 10K |
| P1 | adjustpot 50K |
| C1,C2 | 100 nF |
| C3 | elco 10uF 25V radial |
| Dis1..4 | display FND358 |
| D1..4 | diode 1N4148 |
| U1 | 74HCT138 |
| U2 | Max7219 |
| J1 | PSK 254/10W |
| Sw1..16 | Button, data following… |
| cable | 2 x PSS254/10G + wiring |