This is an old revision of the document!
---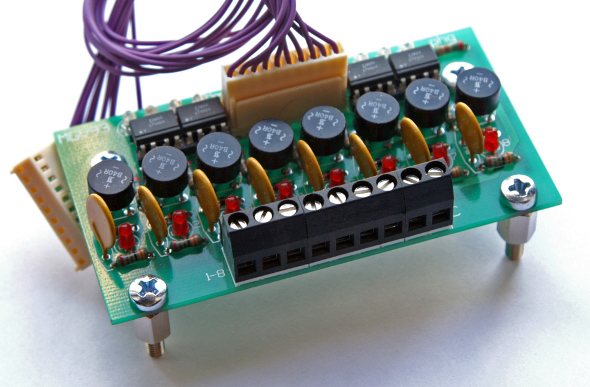 Current detection is one of the most simple and reliable solutions to detect trains on the track.
This unit is made in such a way, usable for not only MGV50 connection, but also for others like Märklin S88 system.
Each activated input is indicated by led and separately fused with an automatic reset fuse.
Therefore GCA93 is suitable to be used in systems with powerful boosters.
Without fuses, a short circuit is causing the maximum current, supplied by the booster, through rails, train wheels, and also the input on GCA93 itself.
Serious damage can be the result, including fire hazard.
GCA93 will protect all that, simply by cutting down the current to several milliamps.
The short circuit situation will be indicated, and the occupying signal remains.
After the short circuit has been removed. the fuse will reset itself.
For cost reduction, signals can be omitted. Please refer to Bill of materials.
Omitting the fuses is strongly not recommanded, but if it is done, the fuses have to be replaced by a piece ow wire.

Opto coupler isolation

Compatible with MGV50, LocoIO and all other input modules up to 12volt

Each input separately fused, to avoid damage to rail or train

Fuse will reset itself after problem has vanished

Each input has activity indication by Led

Each input has fault (fuse active) indication by Led.

Adaptable to existing Maerklin contact rails.
If some of your trains are equippped with (self-made) interior led illimination, there could be a small problem.
Specially if you are using central units (e.g. DIgitrax DCS100/200) or boosters(e.g.ORD-3) with regulated and adjustable output.
These units can be selected to G, HO or N scale, meaning output of approx. 18, 15 or 12 V.
Any connection to GCA93 will loose 1.2 Volt inside the GCA93, so for example a HO train made for 15 Volt digital, is now only receiving 13,8 Volt.
That is no problem at all for the train and decoder, you will hardly notice the difference.
But led-chained illumination is sometimes made for voltages up to 18V, meaning that they will not work.
Fot N scale and HO it is not a problem, you simply and safely switch one step higher.
But for G scale that is something you have to consider when you are installing led chains.
Uw unieke activeringscode is 6426f136b70311e181820050568e196b. Ter controle dient u het e-mailadres in te voeren dat u bij uw registratie heeft opgegeven. Simply calculate the total voltage of all leds of one chain together.
Also consider the rectifier , used for the illumination, because also there you will loose 1,2 Volt in a full bridge.
When GCA93 is used in the configuration from Option 3 or 4 ( see below) the voltage drop is nihil.
Uw unieke activeringscode is 6426f136b70311e181820050568e196b. Ter controle dient u het e-mailadres in te voeren dat u bij uw registratie heeft opgegeven. A good calculator (unfortunately in Dutch but you will understand it anyway ) for Leds is to be found here:

The mentioned options are described above in connections to rail.
Y means : item needs to be installed in selected option.
N means : do not install item in chosen option
Option 1 = GCA93 used in three-rail system.
Option 2 = GCA93 used in 2 rail system.
Option 3 & 4 = GCA93 used in Maerklin contact rail system.
Qty
Partnr
Description
Dealer
order#
Option 1
Option 2
Option 3
Option 4
8
R1..R8
Resistor 33 Ohm
1/4W 33
Y
Y
Y
Y
8
R9..R16
Resistor 3.3 KOhm
1/4W 3,3K
Y
Y
N
N
1
RP1
Array 8 x 10 KOhm
www.reichelt.de
SIL 9-8 10K
Y
Y
Y
Y
8
GR1..GR8
B80C1500 round
www.reichelt.de
B80C1500RUND
Y
Y
N
N
8
F1..F8
Fuse 0,5A
www.reichelt.de
PFRA 050
Y
Y
N
N
8
F1..F8
Resistor 4K7
N
N
Y
Y
8
D1..D8
Diode 1N4148
1N 4148
Y
Y
N
N
2(4)
U1,U2
LTV844
www.darisusgmbh.de
www.it-wns.de
LTV844(2 x LTV824)
Y
Y
Y
Y
1
J1
9 pole screw conn.
www.reichelt.de
3 x AKL012-03
Y
Y
Y
Y
1
J3
10 pole header
www.reichelt.de
PSS 254/10G
Y
Y
Y
Y
8
LED1..LED8
Led 3mm red
y
Y
N
N
8
LED9..LED16
Led Hi bright Green
www.leds-buy.nl
10-03-01-GG
Y
Y
Y
Y
2
connector
connector for cable
J3 to MGV50
www.reichelt.de
2 x PSK 254/10W
PSK-KONTAKTE (=20pcs)
Y
Y
Y
Y
Public shopping cart at Reichelt
Please remind that you have to check this shopping list yourself, before making any order.
We can not be held responsable for missing parts or any changes in prices and stock-availability of any listed item.
omit the following parts:
RP1
Led9 .. Led16
The unit will work fine but no visible signals of activated inputs