SensorDialog General Tab.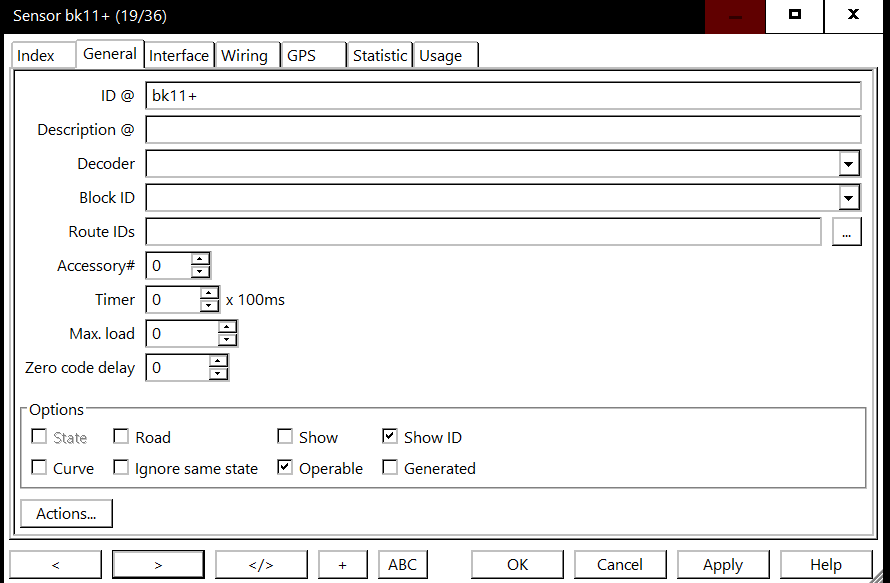 The ID is used throughout the Rocrail program as Unique Key for referencing this sensor and is therefor very important. If you change the ID you must probably also edit the defined blocks or turntables, which are using this sensor.
If the sensor symbol has an occupied representation it can be activated by linking the sensor to a block or sensor. Normally it is linked to the block which it belongs to.
Route IDs are for showing the locked routes using the route representation or the occ if no symbol is found.
This is a list of comma separated Route IDs without white space (blanks). If one of the IDs has become locked the route representation will be shown.

Free text for display only.
If this attribute is checked, the symbol for this sensor will be taken from the road theme.
Current state of the sensor; checked is on.
Show the sensor in the trackplan. Some sensors should be not shown like all turntable sensors.
See Actions for more details.
The sensor object has an occupied counter which can be used as state value in action controls. This counter is reset to zero if any action defined for this sensor was executed.

Timed off delay timer in 100ms units; Range = 0-20.
Default zero for normal sensor reporting.
This option depends on the Rocrail Timed sensors automatic flag.