Table des Matières → Le Serveur Rocrail
ServerMonitor | Le mode Console | L'arrêt du Serveur Rocrail | Stations de commande multiples | Fonctionnement sous Windows
Running the Rocrail Server under Windows can require a little bit of extra work. Older Windows versions need the ANSI version of Rocrail because they don't have Unicode support. Newer versions need a third party driver such as givio.sys to allow direct access to the COM and LPT ports. And regardless of your version, there are performance considerations that you must be aware of.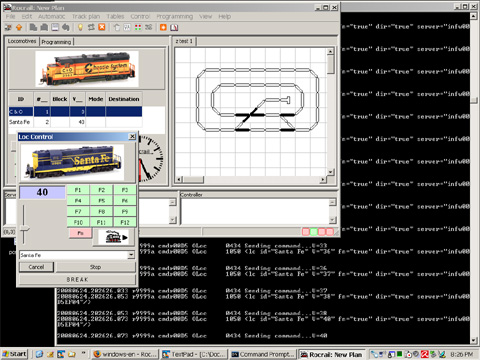 A screen shot of Rocrail running on an IBM Thinkpad Laptop with Windows XP.

While Rocrail runs fine on most newer Windows systems, there are still some performance issues. The Rocrail Server is real-time control software, and depends on very fast communications with your Central Station.
If you are using an older computer to run Rocrail under Windows, try to avoid running any other software at the same time. This includes disabling anti-virus software and exiting programs that run in the system tray.
If you are using an SRCP server program like DDW "underneath" the Server, this will degrade performance as well.
Symptoms of an "overloaded" windows computer running the Server include noticable lag times between clicking on a turnout and it actually switching, locomotives "running long" when they enter your blocks, and commands being swapped by windows, i.e. the loc starts moving before the turnout is switched, even though Rocrail sends the turnout command before the loc command.
Support for Foreign (i.e. non-france) languages was neglected in early Windows versions. As a result, there are two different versions of Rocail, one that uses the older ANSI 8-bit character set, and one that uses newer Unicode characters that provide extra language support.
Windows 95/98/ME
These versions don't have Unicode support, so you should use the ANSI version of Rocrail.
Windows NT/2000/XP And Later
These versions support Unicode, so you should use the Unicode version.