This is an old revision of the document!
---
"SocketCAN ist eine Sammlung von CAN-Treibern und einer Netzwerkschicht, beigestellt von der Konzernforschung der Volkswagen AG zum Linux-Kernel."

Die RPI-CAN MCP251x Schnittstellen-Baugruppe benötigt einen Raspberry Pi 2/3.
SocketCAN ist nur verfügbar, wenn der Rocrail-Server auf dem selben Raspberry Pi läuft, der den RPi-MCP251x trägt.
Die Kommunication mit CBUS(CAN) ist direkt und binär; Bidirectionale Konvertierung zwischen dem MERG Gridconnect ASCII framing.
Die 12VDC-Stromversorgung für angeschlossene CANGC*-Baugruppen kann mit einem GCA-08 erfolgen. Siehe Anschluss-Kabel für mehr Information.


Editieren:
/boot/config.txt

; uncomment
dtparam=spi=on
; add
dtoverlay=mcp2515-can0,oscillator=16000000,interrupt=25
dtoverlay=spi-bcm2835-overlay

Zur Datei
/etc/network/interfaces
folgenden Abschnitt hinzufügen:

# CAN Interface
auto can0
iface can0 inet manual
        pre-up /sbin/ip link set $IFACE type can bitrate 125000 restart-ms 100
        up /sbin/ifconfig $IFACE up
        down /sbin/ifconfig $IFACE down


pi@keltenbahn:~ $ dmesg | egrep -i "can|spi" 
[    3.998382] CAN device driver interface
[    4.051102] mcp251x spi0.0 can0: MCP2515 successfully initialized.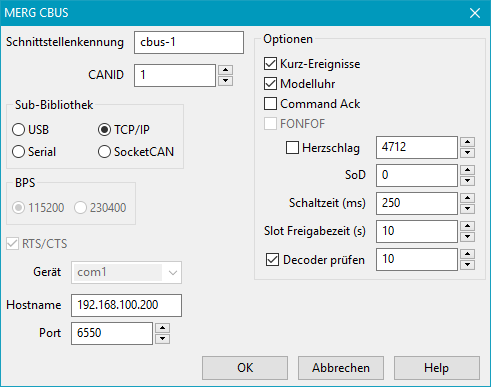 Sub-Bibliothek SocketCAN auswählen

Hostname(Gerätename) auf can0 (Wenn nicht gesetzt: "can0" wird verwendet.)
Gerätenamen mit dem Befehl ifconfig auf dem Raspberry Pi prüfen:

pi@keltenbahn:~ $ ifconfig
can0: flags=193<UP,RUNNING,NOARP>  mtu 16
        unspec 00-00-00-00-00-00-00-00-00-00-00-00-00-00-00-00  txqueuelen 10  (UNSPEC)
        RX packets 0  bytes 0 (0.0 B)
        RX errors 0  dropped 0  overruns 0  frame 0
        TX packets 0  bytes 0 (0.0 B)
        TX errors 0  dropped 0 overruns 0  carrier 0  collisions 0