Content → Command Stations → Massoth DiMAX


Select "massoth" as CS from the list in the Rocrail Dialog.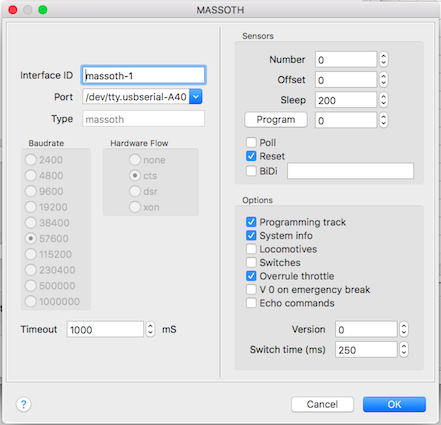 The baud-rate is fixed at 57600 and the handshake on CTS.
Other settings are ignored.

The -a- contact reports occupied and the -b- contact reports free on the same address.

With this option the -a- and -b- contacts are separately used and will be reset automatically after 2500ms.

Option for showing the actual system load.

Deselect the throttle from the loco.

To adjust the way functions are controlled the protocol_version must be set accordingly:
Parallel → 1 (default)

Serial → 2
Flat: Address field.
The port field is not used.

The server trace shows the currently active options set:

20101020.174716.708 r9999I main     OMassoth 0978 ----------------------------------------
20101020.174716.708 r9999I main     OMassoth 0979 Massoth 2.0.0
20101020.174716.708 r9999I main     OMassoth 0980 ----------------------------------------
20101020.174716.708 r9999I main     OMassoth 0981 iid           = vcs-1
20101020.174716.708 r9999I main     OMassoth 0982 device        = /dev/tty.PL2303-00001004
20101020.174716.708 r9999I main     OMassoth 0983 baudrate      = 57600 (fix)
20101020.174716.708 r9999I main     OMassoth 0984 reset sensors = no
20101020.174716.708 r9999I main     OMassoth 0987 system info   = yes
20101020.174716.708 r9999I main     OMassoth 0988 ----------------------------------------