Content → Command Stations → MTTM FCC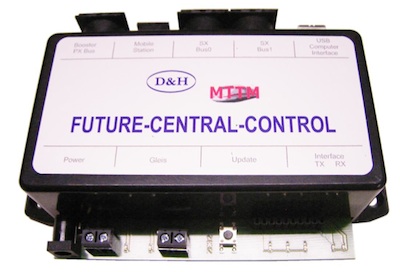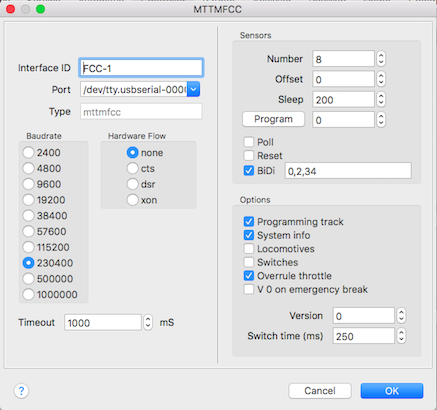 The line settings are ignored and are fixed set in the library as documented in the manual.
Importent is only to chose the right library from the list: mttmfcc

Activate the Switches option for initialising.

Activate support for Müt BiDi sensor modules.
In the text field a CSV list of none-BiDi unit numbers can be specified.

| Nr. | Channels | Horn |
| --- | --- | --- |
| 0 | No extra auxchannel. | F1 |
| 1…8 | Auxchannel 1 at loco address +1. | F9 |
| 9… | Auxchannels 1 and 2 at loco address +1 and loco address + 2 | - |
Occupancy detectors and other D & H modules can be programmed via the FCC using St-Train. Each occupancy detector is programmed to its own Sx address.
For this there is a separate menu item in ST-Train ⇒ Module Programming
Under this point, the addresses can be read out and reprogrammed. It is important that the modules are connected to the control panel and put into programming mode. How this works is explained in the instructions for the module.
Note : Always program only one module at a time.
Only when the modules are programmed can they work together with Rocrail.
Other MTTM / D & H products (function decoder, occupancy detector, turntable module, servo module, multi-IO) can also be programmed with ST-Train.