---
ORD-1 is een hardware interface voor modeltreinsturing. Het is ontwikkeld voor gebruik met Rocrail.
---
Dit zelfbouw command-station verbindt de computer met de treibaan. De computer levert de data die nodig is om de loc's en wissels te sturen. ORD-1 versterkt die data. Ook leest de computer via de ORD-1 de melders op de baan uit. Een unieke optie van de ORD-1 is dat deze zorgt voor een galvanisch scheiding tussen de baan en de computer. Hierdoor wordt de kans op beschadiging van de computer uitgesloten.
Om Rocrail in auto-mode te kunnen draaien met de DDX bibliotheek zijn slechts de volgende onderdelen noodzakelijk:
Gewone PC met een standaard serieele en parallelle poort. Linux of Windows besturingssysteem.

ORD-1 met kabels en een transformator .

met NMRA DCC en/of Märklin Delta/Digital uitgeruste loc's

met NMRA DCC en/of Märklin Delta/Digital decoders uitgeruste wissels en seinen (of ORA-1).

S88 terugmelders (zoals ORF-1).

Wat rails, wissels en tijd…..
Volledige Rocrail ondersteuning

Volledig optische isolatie, computer / modeltrein

2,5A Booster met stroombegrenzing en kortsluitdetectie

Externe boostersturing voor LDT ® en Märklin ® Boosterbus en ook voor andere Boosters zoals Tams B2

Programmeerspoor output met terugmelding

S88 uitbreiding voor vier bussen

160x100mm PCB

Gebruik transformator zonder centrale aansluiting (standaard modeltrein transformator) of, voor betere performantie, met centrale aansluiting (typisch een 2x15VAC Toroid)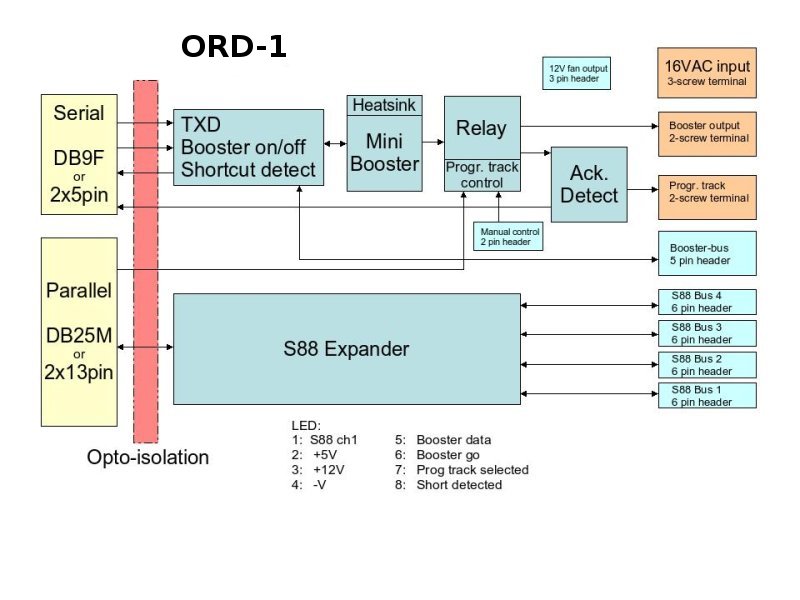 Schema's en PCB zijn gemaakt met KiCad, een Open Source (GPL) PCB Suite.
Complete CAD bestanden zijn beschikbaar bij RocRail Subversion repository.
Oudere versies zijn niet meer beschikbaar.
Very small changes from v1.51. Added two diodes to allow for more power from parallel port and increased R46 to 1k.
Kicad files:

Schematics:

PCB Layout:

Component list:

Note: Please use DDX, not DDA or DDL.

Errata: Sommige computers kunnen maar weinig vermogen leveren uit de rs232 poort waardoor het signaal vervormd kan worden. Als je zulke problemen hebt probeer dan de waarde van R42 te verhogen (330<R<2k2)

Status: Fully tested. Several units built.
Resistors: For best result, use 1%, 1/4W, metal film resistors.

Power resistors: 0R33 for 2.5A output. 0R22 for 3A output (only if you have very good cooler). Use 4W types, max 17mm length. With creative mounting and soldering you may use longer types or even bundles of 2W metal film resistors, like 3pcs 1Ohm in parallel for 0.33Ohm.

Relay: FEME VMA 001 12 (Elfa part number 37-069-18) or Schrack PE014012. Any 12V, 5A, 29mm standard SPDT, single pole double throw, relay may be used, holes are defined in PCB but some copper cutting and solder bridging is needed. Also, with a 29mm relay the heat sink must be shorter.

Smoothing capacitors: Use either C13-C24, 16mm diameter, 7,5mm leg spacing, minimum 35V or C11 and C12, snap in type. If you plan to use a transformer without center tap, use largest possible capacitance, minimum 2x6000uF.

Rectifier diodes: The diodes must sustain full power usage, use for example the 1N540X series.

Heat sink: A spare PC CPU fan may be a simple and cheap solution. The box shaped fans AMD ships with their modern CPUs are perfect. Drill 2,5mm holes and thread with a M3 tap. Use nylon screws and insulating washers between TO220 tabs and the heat sink. Use P9 header to supply power to the CPU fan. The heat sink must be able to take away about 60W of heat in case of sustained overload or short circuit and computer doesn't recognize the SC and properly issues STOP. During normal operation, the heat dissipation is moderate. If you use a small heat sink, you may use a thermal fuse or thermal switch attached to heat sink, near the output transistors. The thermal fuse may break rail output or, when used with single tap transformer, input AC. If you use a model train transformer, it may include a bi-metal thermal fuse, which will trip in case of prolonged unattended short circuit.

Transformer voltage: 15VAC is working for most H0 and N scale locos. 12VAC is best for Z-scale, but can be used for N-scale too. 18VAC is probably to much for all indoor scales.
* Fuse rating: If you use a transformer with two windings, use two fuses 1,5A (or smaller). If you use a transformer with one winding, use one fuse ⇐3,25A (or smaller).
Mount all jumpers. The longest jumper must have insulation, as it passes near the rectifier diodes.

Mount all small components (mounting in "height" order is easiest). The resistor legs must be bent near the body (this is maybe not the best for high reliability electronics, but this is just a hobby…). Please note the polarity/direction for diodes (the marked side, anode, in the square pad), LEDs (the long leg in the square pad) and electrolytic capacitors (the minus sign in the round pad = positive side to square pad).

Mount the power supply.

Test the power supply.

Mount the remaining components.

Mount the heat sink. Check that the tabs are properly insulated. Remember that you must have proper cooling in case of prolonged short circuit .

Test it!
Use standard straight cables with one male and one female connector.
9-pin D-Sub for the serial port (RS232) and 25-pin D-Sub for parallel port (printer port).
You may change the printer port bios settings if the relay does not work. Some PC's work well with standard setting, some must be set to ECP+EPP.
When the ORD-1 is connected to a com port and Rocrail server is running (and no com port errors was shown in log), the LEDs looks like:

D10 unlit = no S88 data on bus 1
D12 unlit = no positive track voltage
D13 unlit = no negative track voltage
D14 unlit = no data
D15 unlit = STOP
D16 unlit = normal (not programming mode)
D17 lit = SC detected
D18 lit = +5V working
D19 lit = +12V working
D20 lit = negative voltage working

When power to track is on (the power lamp in Rocrail gui is pressed), the LED looks like:

D10 unlit = no S88 data on bus 1 (with no S88 bus connected)
D12 blinking very fast
D13 blinking very fast
D14 blinking very fast
D15 lit = GO
D16 unlit = normal (not programming mode)
D17 unlit = no SC detected
D18 lit = +5V working
D19 lit = +12V working
D20 lit = negative voltage working

Gebruik DDX, alle noodzakelijke parameters kunnen in Rocgui, de grafische interface, gezet worden.
De wisselstroomvoeding wordt aangesloten op J3. Twee zekeringen, F1 &F2 zorgen voor de beveiliging tegen te grote stromen.Vier diodes, D6-D9, zorgen voor de gelijkrichting. Condensatoren C11&C12 of C13-C24 zijn de afvlakcondensatoren. De afgevlakte gelijkspanning , zonder belasting, moet hier een waarde van 20-24V hebben. Opmerking over de voeding van 1x16VAC: Alleen aarde en 1 van de AC lijnen wordt gebruikt gevolgd door 1 zekering en twee diodes. Er is dan sprake van enkelfasige gelijkrichting, de rimpel op de gelijkspanning is dan groter en er moet een grotere condensatorcapaciteit toegepast worden om een goede gelijkspanning te krijgen. Na het uitschakelen zal de condensator aan de positieve kant snel ontladen door de lineaire spanningsregelaars. De negatieve helft ontlaadt zich via R58. Twee standaard 7805 en 7812 spanningsregelaars, U5 en U6, zorgen voor de spanning aan de elektronica. Twee kleine condensatoren, C9 en C10 zorgen voor ontkoppeling.
Drie leds laten zien of de nodige spanningen aanwezig zijn. Voor een exerne ventilator is een 12V uitgang aanwezig.
Data: De PC stuurt seriele data over TX, J2 pin 3. De nominale spanningen zijn + en -12V maar de meeste seriele uitgangen beperen de stroom waardoor de spanning daalt als we het circuit belasten met R42, C1 en O10. O9 en O10 staan antiparallel en lichten om beurten op.
GO: De PC stuurt het Go/Stop signaal over DTR , J2 pin 4. Positief uit > DTR laag >O11 Led on > Booster GO.
SC: PC ontvangt kortsluiting melding (short circuit) op DSR, J2 pin 6. Kortsluiting > O12 positief aangestuurd > DSR laag. PT: PC ontvangt bevestigingssignaal van het programmeerspoor op RI, J2 pin 9. Bevestiging ? > transistor aangestuurd met 0 volt ?? > RI ???
Data is sent through two opto couplers, O9 + O10. A flip-flop, U1A + U1B restores the signal. R39 + R40 pullup value, 1k, is chosen to give proper rise time. Data signal is sent to booster bus output and to ORD-1 booster. D23 + D24 prevents over voltage destruction of U1, due to wrong booster bus connectivity. R31 gives output over current protection.
DTR line from computer signals Power On/Off (GO/STOP). Optocoupler LED O11 is driven when Power is on (GO). When power is off (STOP) no booster output transistor is driven. This is achieved by forcing data input to booster high with U1D. The base voltage to Q2 and Q4 is forced to nearly the same as Q2 + Q4 emitter voltage, by saturating Q5, and neither Q2 or Q4, nor Q6 + Q7 will be driven.
The booster is unregulated. This means that the output voltage will be almoste the same as the rectified and smoothed supply voltage. This is done by saturating the output transistors, one at a time.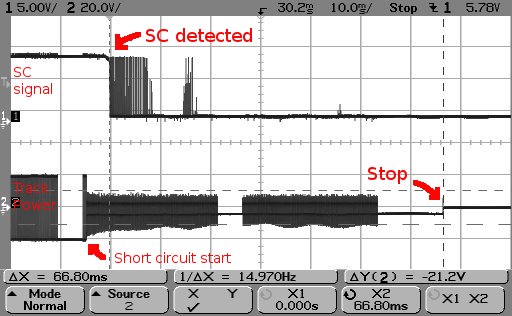 When running normal, the voltage over the two 100uF, C2 & C3, capacitors will be about -4V (-20V+15V+1V=-4), as every negative output part of the output cycle can sink a lot of current through the zener diode Z1 and the diode D4. The positive parts of the cycle can only charge through a 10k resistor, R16, and that current is not enough to rise the voltage over the capacitors. When short circuited to ground, then the zener diode and the diode can no longer sink current to negative cycles anymore, instead voltage over the two capacitors will rise and when high enough D5 will drive ch7 output low of U7, ULN2803A. This will make LED D17 and opto-coupler O12 signal short circuit detection (SC). If booster bus pin 5 is driven high then ch8 of U7, ULN2803A, will be active and signal SC. The filter D21 C27 ensures that noise from open booster bus port will not trigger SC detection.
When the loco do an ack it rises its own power consumption for a short period. The increased current gives a increased voltage over R51. OP U4 is configured as a comparator with different time constants for positive and negative input. This detects this quickly rised voltage and drives the ack opto coupler O13 for a short period (less than 10ms).
Indien je onzeker bent over hoe je de ORD-1 moet aansluiten, neem een kijkje op de connectie-tekening:
Connection diagram
Indien je onzeker bent over hoe aansluiten, vragen staat vrij bij RUG.
ORD Prototype