Content → Rocrail Server → Configuration
Menu location: Rocview→File→Rocrail Properties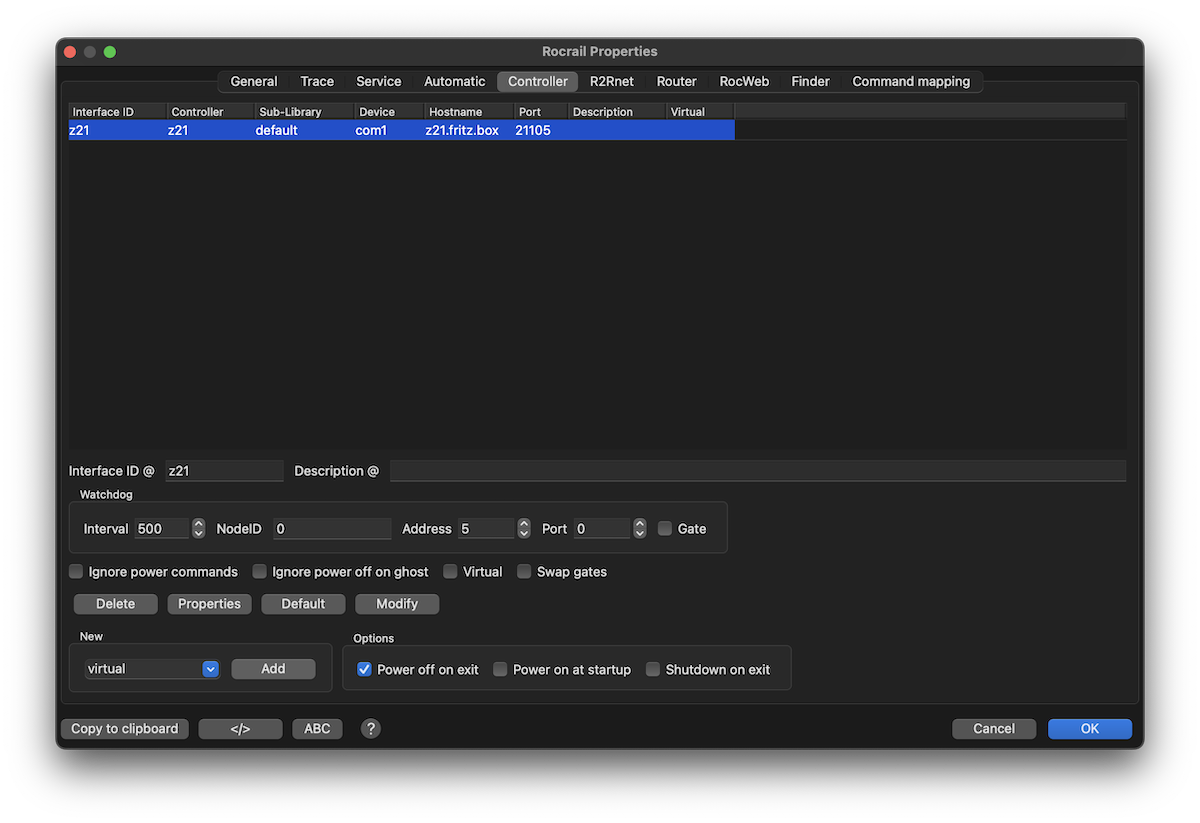 The list cannot be sorted because it must show the actual order.

A double click on a controller line will open the properties dialog.
All text fields which are marked with a @ can open the @Box by a single click on its label if the text field is not empty.
The text field contents will be used to do a find.

A restart of the server is required in order the changes to take effect!
Select from the combobox the wanted Commands Station(s) type and push the Add button. The new added Commands Station is listed now with the IID NEW. Select the NEW Commands Station in the list and click on Properties for setting up the details and a 'speaking' IID.

Following libraries are available: Command Stations.

Before a Commands Station can be deleted it must be selected from the list.
The pre-installed should be deleted to make sure the new added one works correctly.

The properties dialog is Commands Station type dependent and is described in the Command Stations section.
Attention:

Some CS use the same dialog, so is it possible that are options include, they not avaliable to all CS.

Is decisive, which is described in chapter of the individual

Command Stations

.
Push the selected Command Station on top to make it the default.

This option prevent sending sub sequential Power OFF/ON commands.
Supported Command Stations:
In case there are more then one Command Stations defined this option can be used to ignore a Power Off on Ghost.

Take over the Interface ID, the Description and the Ignore power commands option for the selected CS.

Default the CS is commanded to power off the tracks on exit.
Uncheck this option if this is not wanted.

Turn global power on after initialising the CS.

Some Command Stations support a shutdown command like:
ESU Ecos

Rocnet RocNetNode
Disable checking for serial devices at startup.
Some Windows System will crash if serial devices are checked at startup. Therefor this checking is default disabled.
But if you know which port it should be used it can be directly typed into the combobox.