Content → Objects → Fiddle Yard


Fiddle Yard Dialog Interface Tab.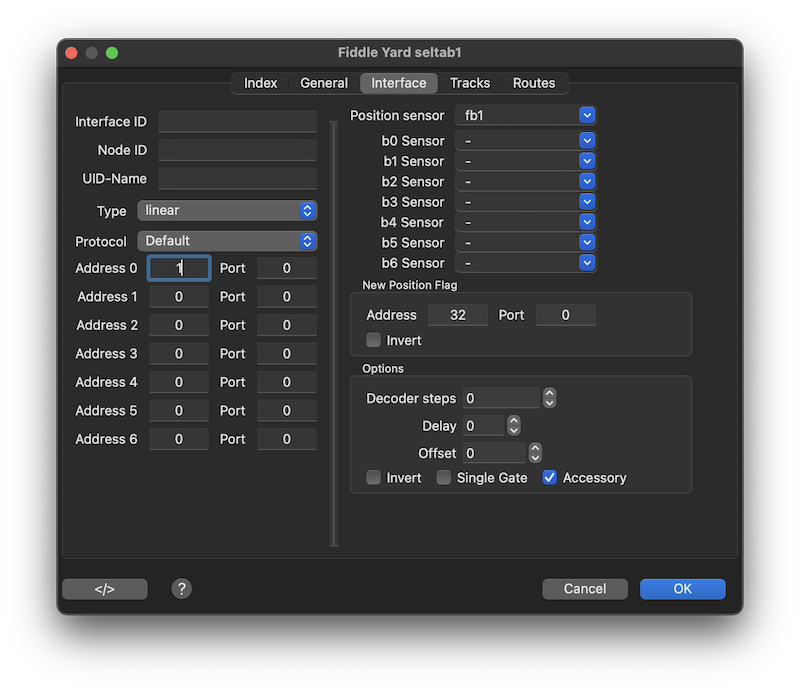 Default setup using switch commands.


If the decoder and sensor are connected to another command station as the default it should be linked with the correct IID as setup at the server.


Alternative to the Bus number supported by:
BiDiB (String: Username)

RocNet
Position range is 0-127.

| Address | Position nible |
| --- | --- |
| 0 | 0 |
| 1 | 1 |
| 2 | 2 |
| 3 | 3 |
| 4 | 4 |
| 5 | 5 |
| 6 | 6 |
Leave address 4..5 zero if the FY has a range of 0…15.

Invert the commands: Zero is on.

If the system has a flat addressing scheme like CBUS.

The switch commands will set the accessory flag which is for some command station, like DCC++, important to determine DCC or I/O.


This output is used to signal the FY controller that the new position is set.
By default to signal '1' the thrown command is send. Use the Invert option to swap this.


Sensor which signals the end of move.
This event should also be send if the Fiddle Yard was already in the wanted position!

The position byte is set by the Fiddle Yard.
No new command will be send if the wanted position equals the reported position and the position sensor is also high.
Leave b4…b6 empty if the FY uses a range of 0…15.


Fiddle Yard decoder type.

| Type | Description | Command type |
| --- | --- | --- |
| D | Command Station default | switch |
| M | Motorola | switch |
| N | NMRA DCC | switch |