User pages → Rob Versluis
Conrad 230500 Servo ES-05 JR ( € 4,95 )

Conrad 234915 Servo tester

Tillig Elite Turnout
The Tillig Elite and the Servo tester are mounted on top of the test bench.
The servo fitting is made from aluminium 15×15 profile and the wire is made of 0,8mm steel.
The only visable part of the servo is the wire.
Cross section view.
The servo can set the turnout very slow and silent in another position. In other words: Very positive.
The decoder will be made for me by Peter Giling and can be connected to John Jabour's LocoIO. It will also feature relais for polarisation of the electro frogs. You may also use Opendecoder for driving the servo. (WIP)
The new developed servo driver by Peter Giling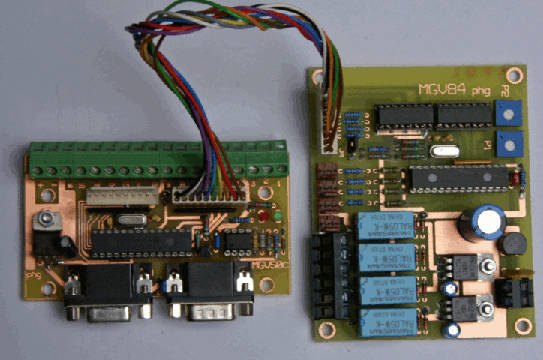 On the picture it is connected to a MGV50 LocoIo. Also LocoIo is possible.
Features:
4 servo outputs

4 0-5V inputs, 1 per servo

4 0-5V outputs for postion feed-back 1 per servo

relays for polarising the electro frog

induvidual speed setting

induvidual rotation angle

LocoIO compatible