128 loco slots

auto purging

14, 28 and 128 speed steps

28 mobile decoder functions

programming on the main (OPS)

service track programming (The S-Nano does not support a service track.)

stationary DCC decoders
Only the default speed step is supported for rolling road: 128¹
¹) The mode word is currently not changed if the speed step of a loco is not set to 128.


Rocrail sends every 25ms a byte string like "O 73 3F CC 80" as a command to SPROG II which on its turn generates the real DCC packet on the track output.
This byte string is a hexadecimal representation of the DCC packet to be send. A complete refresh cycle will take about 4 seconds if all 128 slots are in use.

Only the IID and the serial port has to be set, the rest is fixed in the firmware of the SPROG line.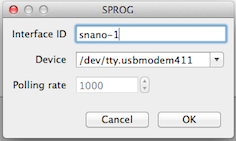 SPROG 3 and S_Nano have device name "/dev/ttyACM0" under Linux.

The Pi-SPROG can only be used if Rocrail runs on the Raspberry Pi on which the Pi-SPROG is connected.
Pi-SPROG has the device name "/dev/ttyAMA0" under Linux/Raspbian.