Inhoud → Baanontwerp → Text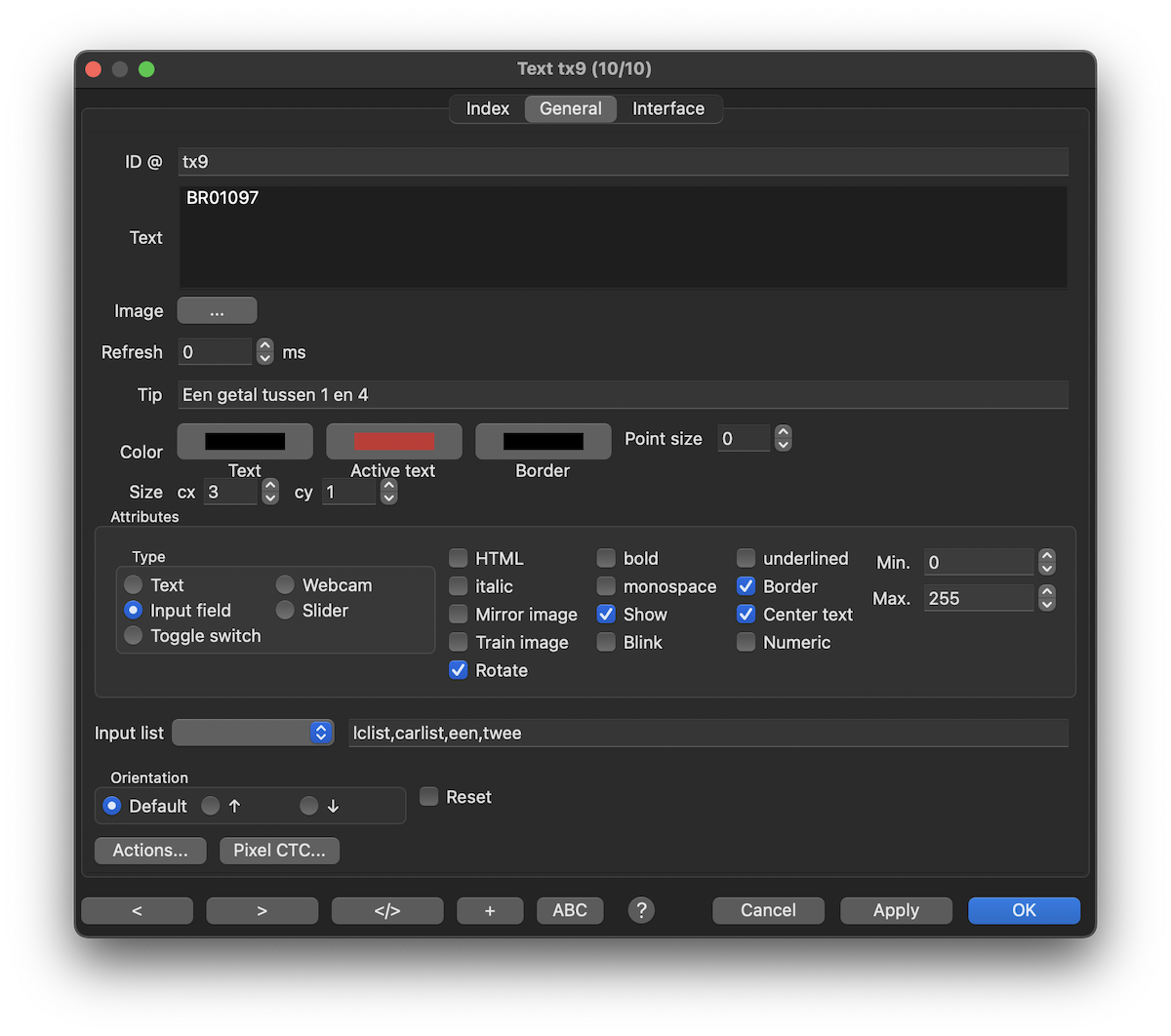 | Attribute | Description | Comment |
| --- | --- | --- |
| ID | Een uniek ID dat Rocrail gebruikt voor adressering. Het ID wordt meestal door Rocrail toegekend. | |
| Text | Dit attribuut slaat de tekst op die weergegeven moet worden op het scherm. De tekst kan hier gewijzigd worden. | |
| Image | Met deze knop kun je het pad naar een afbeelding kiezen, als je een afbeelding wilt zien in plaats van tekst. | |
| Tip | Tooltip voor deze component. | |
| Point size | De grootte van het lettertype kan hier ingesteld worden . | 0 (standaard) is de standaardwaarde van de computer. |
| Color | Voorgrond kleur. | |
| Background | Achtergrond kleur. | Alleen zichtbaar als het attribuut transparent niet gezet is. |
| Orientation | Standaard staat de tekst horizontaal. | |

The tab 'Location' is described in chapter Track diagram elements. The attribute cx is quite important for the handling of text. If a string is not completely displayed in the plan, you should increase this value until the whole string is shown in the track plan.
Een actie kan gebruikt worden om de tekst uit te laten spreken door een programma als espeak.
Deze aktie wordt alleen gestart als de tekst geupdated wordt.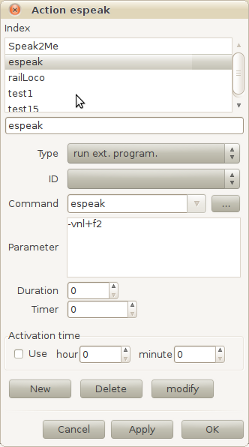 Als tekst-acties vastgelegd zijn voor een blok kan de tekst dynamisch aangepast worden.

Voorbeeld van een tekst-actie die aan een blok gekoppeld kan worden: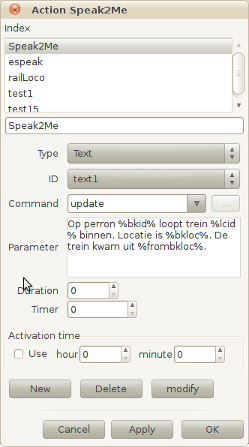 Loco
%lcid%
Loco ID
%lcimg%
Loco image
%lcdest%
Loco destination
%lcdesc%
Loco description
%lcnr%
Loco number
%lcdir%
Loco direction: "fwd"/"rev"
%lcplacing%
Loco placing: "norm"/"swap"
Schedule
%lcscid%
Schedule ID
%lcscbk%
Schedule block ID
%lcscbkloc%
Schedule block location
%lcschour%
Schedule departure hour
%lcscmin%
Schedule departure minute
%lcscnextbk%
Schedule next block ID
%lcscnextbkloc%
Schedule next block location
%lcscprevbk%
Schedule previous block ID
%lcscprevbkloc%
Schedule previous block location
Block
%bkid%
Block ID
%bkloc%
Block location name
%bkdesc%
Block description
%frombkid%
Coming from block
%frombkloc%
From block location name
%frombkdesc%
Coming from block description
Alle vastgelegde environment variabelen kunen eveneens worden gebruikt :
"Goede morgen %USER%."

levert als resultaat:
"Goede morgen rob."

Het programma espeak, een opensource programma om tekst vanaf de cmd-line door de computer uit te laten spreken
een Linux script daarvoor:

mplayer jingle.wav;
espeak -vde+f2 " $* ";

laat een jingle horen voorafgaand aan de dynamische tekst .

of voor windows gebruikers:

Maak een Windows batch-file,geluid.bat aan met bijvoorbeeld het programma Wordpad. De inhoud kan er als onderstaand uit zien en roep vanuit Rocrail als extern programma deze .bat file aan:

c:\playwav ns.wav
c:\espeak -vnl+m3 %1%
exit

of :

sndrec32 /play /close /embedding c:\sound\gong.wav
C:\Programme\eSpeak\command_line\espeak.exe -v de+f2 %*