All build instructions should be executed in the context of a normal user account, not as root. Package installation(s) MUST be done as root.


First of all you have to install some packages. So open Synaptic or aptitude ( System/Systemverwal tung/Synaptic- Paketverwaltung).
Choose the following packages:
| | |
| --- | --- |
| build-essential | The compiler and more |
| git | This package contains the tools to access and download the Rocrail sources |
| libwxgtk3.0-dev | This package is used for building the Rocrail Gui* |
| libusb-1.0-0-dev | This package is used by the Rocrail server |
Accept all packages that are suggested by synaptic and start the installation.
*On older versions of Ubuntu, the package libwxgtk2.8-dev can be used instead of 3.0 but some gui functions will be lost.
Open a terminal and type:

mkdir ~/Projects
cd ~/Projects
git clone <granted link> Rocrail

This downloads the Rocrail sources into the subdir ~/Projects/Rocrail of your Home directory.

For a faster download without revision number:

git clone --depth 1 <granted link> Rocrail

Now it is time to build Rocrail.
Change to the Rocrail source directory:

cd ~/Projects/Rocrail
make all

In case of 64 bit or other architectures use:

cd ~/Projects/Rocrail
make fromtar

After the compiler finished you have to install Rocrail.
Type the following command in a Terminal Window:

cd ~/Projects/Rocrail
sudo make install

Now you should see 2 Icons in Applications → Other: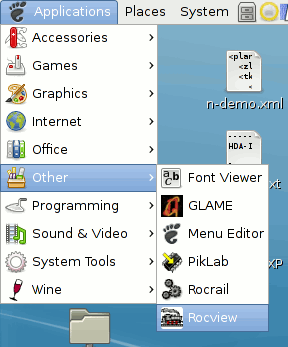 Have fun!