The Finder looks up all possible paths to a given destination.

Calibrate the V_max on the fly with the MV Track and POM.

andRoc: Supports ESU Mobile Control II
andRoc runs on and support the hardware of the new ESU Mobile Control II.

Manage lights on the layout.

Monitoring invisible spots on the layout.

Assemble a train by identifier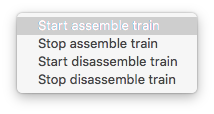 Automatically assembling trains by car identifiers.

Document Management with @Box
Manage all kind of documentation and find it again.

To simplify actions and condition.

Browser Client based on the latest WEB technologies for PC, Laptop, Pad and Smartphone.
Zero install; Just connect with the browser to the server.

Sensor statistic with RailCom/BiDiB
Raptor Command Station support
Soft-Brake-Timer
Deceleration can be used for reducing speed by the Interval and Decelerate parameter.

Virtual blocks are used to group a number of slave blocks to define it as one.

With this dialog a Rocrail server trace file can be loaded, local and remote, and filtered on level, object type and/or ID(free text).



→ Goto previous news page 2014
→ Goto previous news page 2013
→ Goto previous news page 2012
→ Goto previous news page 2011