The programming is established with plain switch commands without any feedback from the servo-controller.
Previous settings of GCA decoders are saved in the rocview.ini for later use.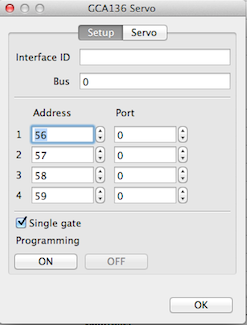 Make sure the C2 option ist set in the GCA50/LocoIO setup for GCA136.
For the programming of only individual servos also have always every 4 addresses / ports are set to
because the programming commands are transmitted in parallel as a series of coded 4-bit values.
Only needed if the decoder is not connected to the default interface.

The programming is done with normal switch commands so the GCA136 could be connected to a none GCA accessory decoder.
The SV IID does not affect this dialog.
Normal Rocrail addressing.
The four addresses must be followup pins on one decoder like the GCA50.
With LocoIO (GCA50) will setup here Address = "0" and Port = "Address of LocoIO port".
Use this option ONLY if the GCA136 is connected to the CAN-GC2 or another flat addressing system.

Set all outputs to the default position and activate programming mode.

Deactivate programming mode.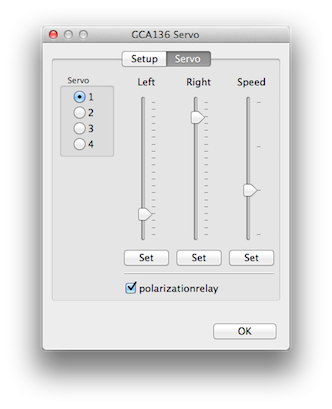 For GCA136 and compatible servo controllers.
Programming commands are send directly after releasing the thumb of the sliders or by selecting the relay or servo selection.

Adjustable right and left rotation angle to meet the environment of the servo.

Position of the polarization relay,situated on the addional GCA137. » For 2-rail systems only!