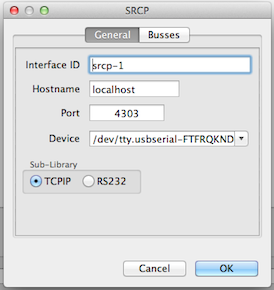 IID for addressing this interface directly from within Rocrail.

Set to "localhost" if the srcp server runs on the same computer as Rocrail.
In all other cases this is the IP Address or Hostname of the srcp server.

A serial device name for Sub-Library RS232.

BPS = 115200

Line = 8N1

No hardware handshake
At the Busses tab you can select the bus numbers for the supported Bus types. 1)
GL = Generic Loco

GA = Generic Accessory

FB = Feedback
The supported protocol version is 0.8.4.

In revision 6798 the optional Identifier has been added which is not part of the SRCP standard protocol:
100 INFO <bus> <address> <value> [<identifier>]
The Bus is also part of the Sensor addressing in Rocrail and should be set on the interface tab.


The addressing of accessories, GA, is conform Protocol version 0.8.4. (INIT GA)

| Protocol | Address range | Port range |
| --- | --- | --- |
| Märklin/Motorola | 1…324 | 0…1 |
| NMRA-DCC | 1…511 | 0…1 |
| Selectrix | 0…111 | 1…8 |
| Protocol by server | 0…* | 0…* |
The current version of srcpd (2.1.1) is not as robust as it could or should be. The changing of certain parameters within Rocrail such as loco speed steps usually requires a restart of the srcpd process(s) and Rocrail. This behavior is due to the limitations of srcpd and not Rocrail.

To select 1:1 addressing for switches, select the "Single Gate" option in the Interface tab.
1)
The "Bus" field in the interface tab of locos, sensors, turnouts and other objects are not related to the SRCP busses; Leave it zero.