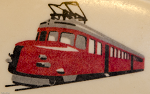 Ueber den Sommer habe ich mich mal hingesetzt und einen Entwurf gemacht, wobei ein Freund dabei tatkräftig Inputs und Vorschläge beigesteuert hat.
In the summertime, I've sat down and worked on an overall draft; and a good friend has contributed many tips and ideas.

Der Plan bildet eine schematische Übersicht in einem ersten Entwurf, verdeckte Strecken und Schattenbahnhöfe sind noch nicht dargestellt.
The Plan provides a draft overview, hidden tracks and staging are not yet shown.

Das Lesen braucht wohl ein bisschen Engagement… Dabei bezeichnet z.B 'c6' eine Gleisverbindung via verdeckte Strecke zum zweiten 'c6'. Die schwarzen z.B. mit 's3' bezeichnen Zu-/Abfahrten vom/zum Schattenbahnhof, die Bezeichnung des Sbhfs ist jeweils nebenstehend.
Reading the plan may need some effort… For instance 'c6' indicates a track connection with the other 'c6' via hidden track. For instance 's3' shows an exit to/from staging, with its name nearby.

Bahnhöfe und der Streckenverlauf sind nur prinzipiell und ohne genauen Verlauf oder Details angedeutet.
Stations and track layout is shown schematically and approximatively, no track details are shown.

Die sichtbaren Bereiche werden in der Regel als 'Doppeldecker' ausgeführt, das heisst mit zwei gestalteten Ebenen plus Schattenbahnhof-Ebene.
Visible sections will be usually realized as 'double deck', which means two scenicked levels plus staging level.

Die verdeckte Streckenführung und der/die Schattenbahnhöfe sind noch nicht geplant und werden anspruchsvoll. Ich kann zur Zeit deren grundsätzliche Machbarkeit innerhalb meiner Normalien auch noch nicht belegen. Dies ist meine nächste Planungsaufgabe.
Hidden tracks and staging are not planned yet, this will be quite demanding. Right now, I do not yet know if it is doable at all with my standards. This is now my next planning duty.

Rhaetian Flyer - Entwurf V9, Uebersicht schematisch - Overview
---