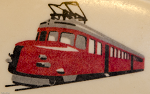 Die 1. Etappe entspricht diesen

Grundsätzen

und ist zugleich ein Anlagebau-Lernstück

Stage 1 adheres to the stated principles and is at the same time a training object in layout construction

Sie umfasst ausschliesslich Anlagenteile im landschaftlich nicht gestalteten Bereich, wie
It is completely in the un-scenicked area such as

Schattenbahnhof - Staging yard

Fiddle Yard, integriert auf dem Arbeitstisch, mit schaltbarem Programmiergleis - Fiddle Yard on the workbench, with DCC programming track

Zwei Wendeln - Two Helixes

Die 1. Etappe erlaubt eine geschlossene Fahrstrecke und enthält zahlreiche 'Komplikationen'
Stage 1 allows continuous running and contains numerous 'complications'

Drei Kehrschleifen, zwei davon enthalten eine Weiche - Three reverse loops, two of which containing a turnout

Doppelkreuzungsweichen, Kreuzung, Kopf-an-Kopf Weichen - Double crossings, crossings, head-to-head turnouts

Steigung, Wendel, variables Steigungsstück für Tests - Grades, Helix, variable grade track for tests

Schattenbahnhof mit Aufstell-Blöcken - Yard with staging blocks

So will ich Erfahrungen sammeln mit - In this way, I want to gain experience in

den gewählten Baunormen wie minimaler Radius, Steigung, etc. - understanding my minimum norms for radius, grade, etc.

Weichenansteuerung mechanisch und elektrisch - turnout control, both mechanically and electrically

Blocksensoren und der Rocrail Steuerung - block sensors and rocrail control
Damit kann ich nebst vielem anderen, präzise Uebergangsbogen und Steigungspunkte für die Konstruktion berechnen
Amongst many other things, I can calculate easments and elevations for the construction

Beide Wendeln haben ein 'offenes' Schienen-Ende als Anschlusspunkte zu weiteren Etappen
Both Helixes have an open ended track to connect to further stages of the layout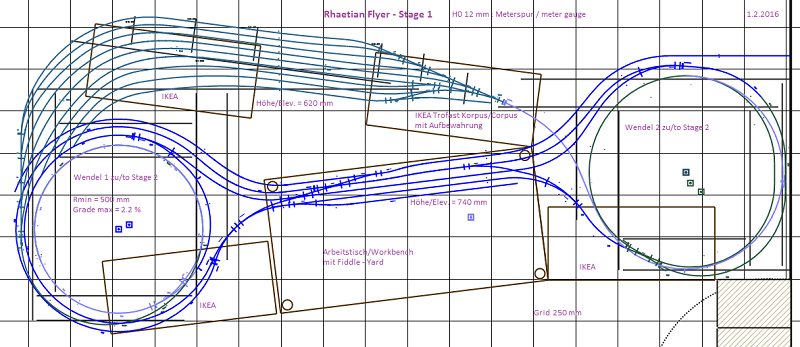 Stage 1 - CADrail Screenshot
Offene T-Träger Bauweise mit Querträgern, integrierte

IKEA Trofast

Aufbewahrungsmöbel und Arbeitstisch

Open T-girder and joist construction, integrated IKEA Trofast furniture for storage and work bench

Alle Weichen, DKW's, und Kreuzung haben polarisierte Herzstücke und jede Weichenzunge ist elektrisch fest mit dem zugehörigen Stammgeleise verbunden
All turnouts, double-crossings and crossing have polarized frogs and each point is electricall connected to the corresponding stock rail

Dies optimiert die Stromversorgung und verringert das Kurzschlussrisiko, speziell für DCC Betrieb
This help with pickup and lessens the risk of short circuits in DCC operation

Weichenantrieb
Turnout operation
Peco-Gleis

ist robust und von guter Qualität, die Weichen sollten jedoch auf Spurhaltigkeit geprüft und wenn nötig justiert werden

Peco-Track is sturdy and of good quality, the turnouts should be checked for track width and adjusted if needed

Die Loks und Züge fahren zuverlässig und ohne Entgleisungen - Locomotives and train run reliable with no derailments

Die Steigung sollte bei mir 2% nicht wesentlich überschreiten - Grades should not exceed 2 % by much on my layout

Den Zielradius in einer Wendel habe ich auf 600+ mm erweitert - I have increased Rmin to 600+ mm within a helix

Die Hall-Sensoren funktionieren äusserst zuverlässig, es gilt aber einige Punkte zu beachten
Hall switches work highly reliable, given that a few points are being observed

Bei langen Fahrzeugen sollten die Magnete in der Drehgestell-Mitte und nicht in der Fahrzeugmitte montiert sein
On long rolling stock, the magnets should be mounted on the trucks rather than in the middle of the chassis

Alternative 1: Man kann zwischen den Schienen problemlos auch 2 Sensoren parallel schalten, um die Auslenkung bei langen Fahrzeugen und Rmin zu berücksichtigen
Option 1: Two sensors in parallel within the track to allow for the offset of the magnets of long rolling stock in a small radius

Alternative 2: Man kann aber auch je einen Magneten pro Drehgestell montieren, da die Hall-Sensoren in Rocrail als 'Achszähler' definiert sind!
Option 2: One magnet on each truck, because the hall sensors are defined as axle-counters within Rocrail!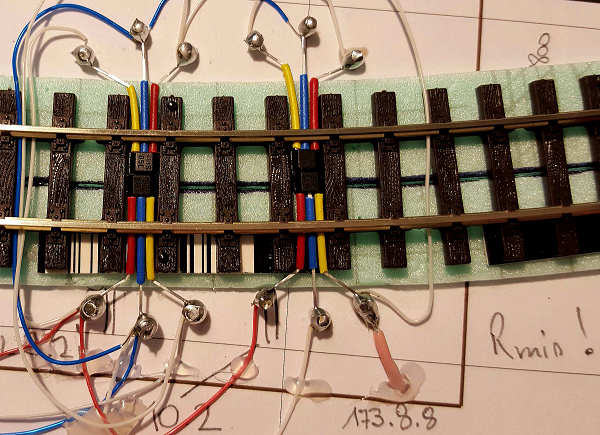 Zweimal zwei Sensoren parallel geschaltet für Blockerkennung und Reverse Loop Double sensors in in Rmin track
Der vertikale Kurven-Radius des Trassee beim Uebergang in die Steigung soll gross gewählt werden für einen sanften Uebergang
The vertical curve radius into a grade should be large to avoid a kink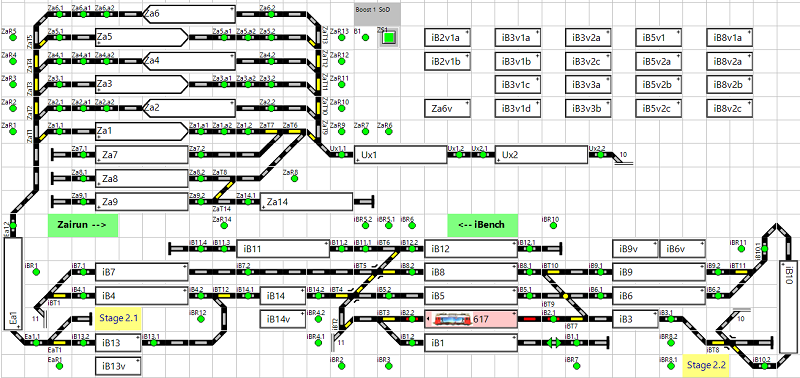 Rhaetian Flyer Stage 1: Rocrail Gleisplan

Jetzt heisst es viel fahren und Erfahrungen mit Rocrail sammeln

Now it's about running trains and gathering experience with Rocrail

Da einige Blöcke in der 1. Etappe recht kurz sind, plane ich einen Erfahrungsbericht, wie das mit längeren Zügen trotzdem klappt
As some blocks in stage 1 are rather short, I am planning an experience report how I could make that work with longer trains anyway

…und natürlich die nächsten Etappen planen

…and of course planning the next stages!