Table of Contents
BiDiB
Algemene informatie
BiDiB is een nieuw protocol dat P&P ondersteunt op een hoog betrouwbaarheids nivo.
Kijk voor meer informatie op: http://bidib.org/

Geschikt voor
Stroomdetectie melders .

Leest CV waarden on the main van Railcom loc decoders .

Loc besturing, snelheid, functies …..

Besturing randapparatuur

CV's programmeren .

Boosters aansturen.
Setup
General
Interface ID
IID for addressing this interface directly from without Rocrail.
Serial Port
Device name of the RS232 port.
Typically COM1, COM2, COM? for Windows, and /dev/ttyS0. /dev/ttyS1, /dev/ttyUSB0 for Linux based systems.
Baudrate
Communication speed in Bits Per Second.

Sub-Library
Options
Secure ACK
Enable
To enable the secure ACK option of the BiDiB protocol.

Interval
The secure ACK interval in 10ms units. 20 is the default. (200ms)
If Rocrail did not send an ACK with in this time frame the event will be resend by the sensor unit.

Nodes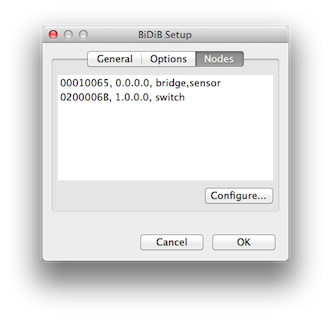 This node overview list will be automatically generated during the connection setup between Rocrail and the BiDiB interface.

Configure
Read the Configuration page for more information on node configuration.

Hardware
Cable
Links
bidib-nl.txt · Last modified: 2018/11/12 08:56 by 127.0.0.1
---