Since it is possible to call Rocweb targeted at a selected level,
arose in me the idea to create a small website in order to get an overview of all of my levels.

It should work with all major browsers (tests with Apple devices are still pending).
On the hardware side, it basically works on Linux, Win7- and Android devices.

The respective HTML file must be copied to a directory of the calling Computer
and be there called with the browser of personal choice.

Input browser's address bar e.g. with Linux

   file:///home/magnus/Webseiten/Basis01.html
Or simply double-click on the file,
or right mouse button on file and "Open with" the browser of personal choice.

To use the entire screen, you can switch best with the F11 key in full screen mode of the browser.

Runs the Rocrail server not on the calling PC, tablet, etc.,
the addresses of Rocweb (= address of the Rocrail server) must adjusted in the HTML file (see Address changes).

In addition, the port is set to "8088" (from the Wiki description).
Runs Rocweb through another port, this needs to be adjusted (see Address changes).

The following HTML files include the call of several Rocweb instances.

Each instance corresponds to a defined level in Rocrail.
Because my HTML code is static, there are several versions of this base-side, each with a different layout and number of levels.

The basic structure is a table and in each table cell is an iframe element that contains exactly these site call.
The formatting of the different iframes / cells are made by css style elements.

The following throttle versions show Level "0" and at the right side the throttle

Screen shot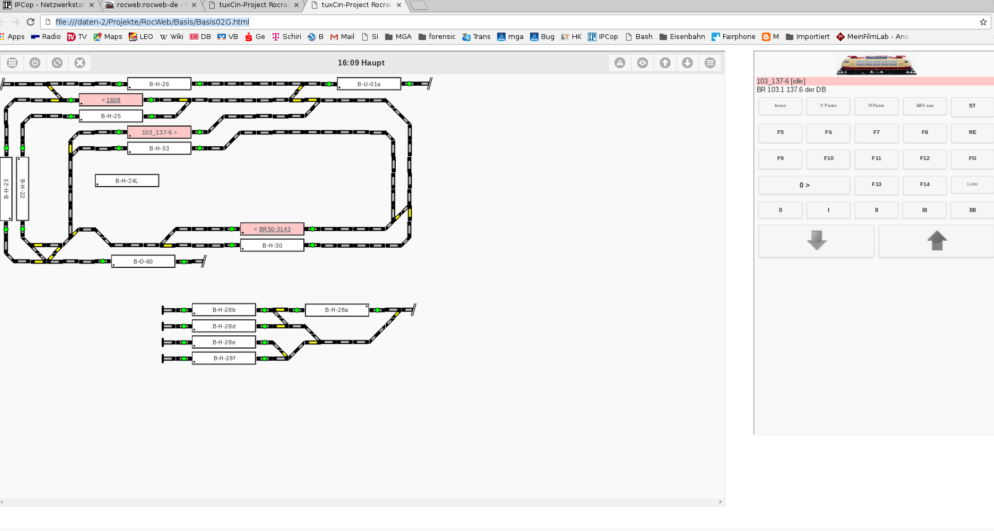 Basically, the screen size is not so important.
The division of each window depends on the resolution of the screen.

The base files are designed for a call from the Rocrail server.

For this, the local address (127.0.0.1) is entered.

To start the files on any computer in the network, each of the address of the Rocrail server must be entered in the file.

This adress is shown in the Info-callingin Rocview.

In the HTML code, these locations look as follows and correspond to the a normal Rocweb call:
 src="http://127.0.0.1:8088/?z=2"
The "2" in the above example corresponds to the level number which must also be customized normally.

Also is "8088" the port of Rocweb.
This must be adapted according to Configuration of Rocweb, if necessary.

For throttle versions the normal parameters of RocwebXS can be used.