ModelspoorGroep Venlo

Important Note: The connector symbols at module transitions, which are contained in the screenshots on this page, may not be used in actual modul plans.
Wichtiger Hinweis: Die Verbinder-Symbole an Modulgrenzen, wie sie in den Screenshots dieser Seite enthalten sind, dürfen in aktuellen Modul-Plänen nicht verwendet werden.
Name
Thumb
Modules
Code
Blocks
Description
Remark
Keerlus 1
1 en 3
m1
47, 48
Keerlus 1 + Wisselbak 3
Keerlus 2
2 en 4
m2
40, 42
Keerlus 2 + Wisselbak 4
Bocht 1
5 en 6
m3
-
Strand + Camping
Kunnen evt. appart worden gebruikt: 2 x 45°
Bocht 2
7
m4
-
Bocht 90 graden
Peterstraat
8 en 9
m5
43, 44
Brugmodule en Tsaar Peterstraat
Landschap G.Drost
11 + 12
m6
30, 31
Ongeluksmodule en overweg module
De Draaischijf
21 t/m 22
m7
32, 33, 64
Draaischijf S.Brummans
Automatisch bedrijf nog in ontwikkeling
Fiddle Yard
23 t/m 26
m8
1-14, 41
Fiddle Yard
For a description of Fiddle Yard see under
User Pages\Fred Jansen and User Pages\Peter Giling
Station Carlstad deel 1
31 t/m 35
m9
19-27
Station Peter Zweypfenning / Carla Knorren
Station Carlstad deel 2
36 t/m 38
m10
15-18
Station Peter Zweypfenning / Carla Knorren
Station Canterbury
41 t/m 44
m11
34-37, 49-50
Station Eddy Canters
Factory
15
m12
28-29, 51-53
fabriek Niek Schreurs
Rangeer sporen zonder meldpunten.
road works & bridge
13 en 14
m13
m13b1, m13b2
Road works and bridge Ron Smeets
Total 242 cm lenght. Is under construction and will
show a roadworks factory under and around the railway bridge.

15-06-2008:
NL: Alle modulen zijn nu juist gedraaid en gepositioneerd. De screenshot is gemaakt op een 22" display met een 50% zoom.
EN: All modules are correctly rotated and placed. This screenshot was made on a 22" display with a 50% zoom view.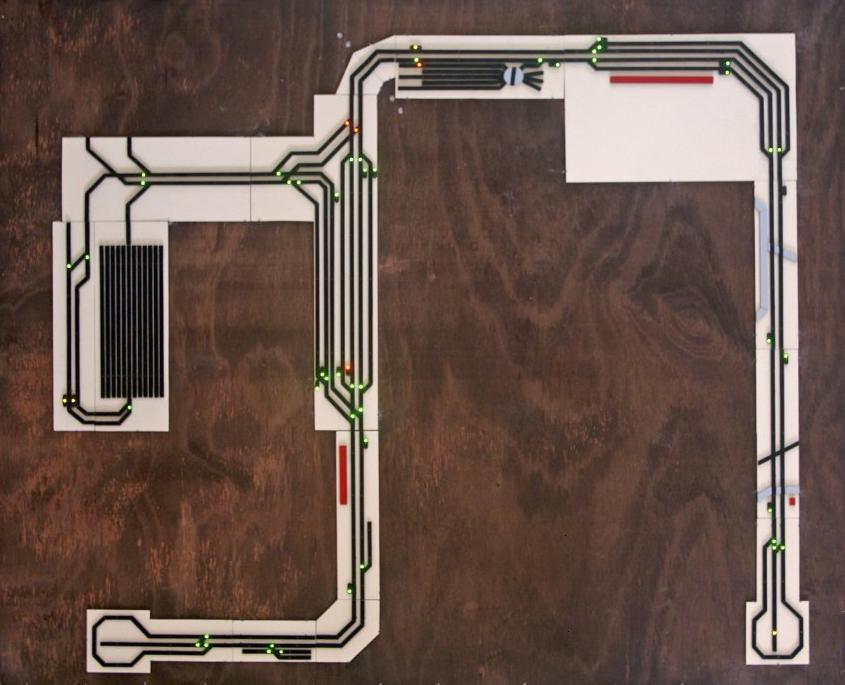 |
In the same way the modules are made, this scale 1/10 shows the modules.
They can be arranged in different order, like the real modules are.
In that way a different set up is possible for a show, to match the available space.
All installed current detectors, turnouts and signs in the main modules, are also visible on the display.
In this example a total of 15 MGV50 Loconet units are used to achieve this.
It is connected by three wires to the loconet.
The whole board measures 1000×1200 mm and will be shown on Eurospoor 2008.