Rijweg Opdrachten


Inhoud → Rocrail-Objecten → Rijwegen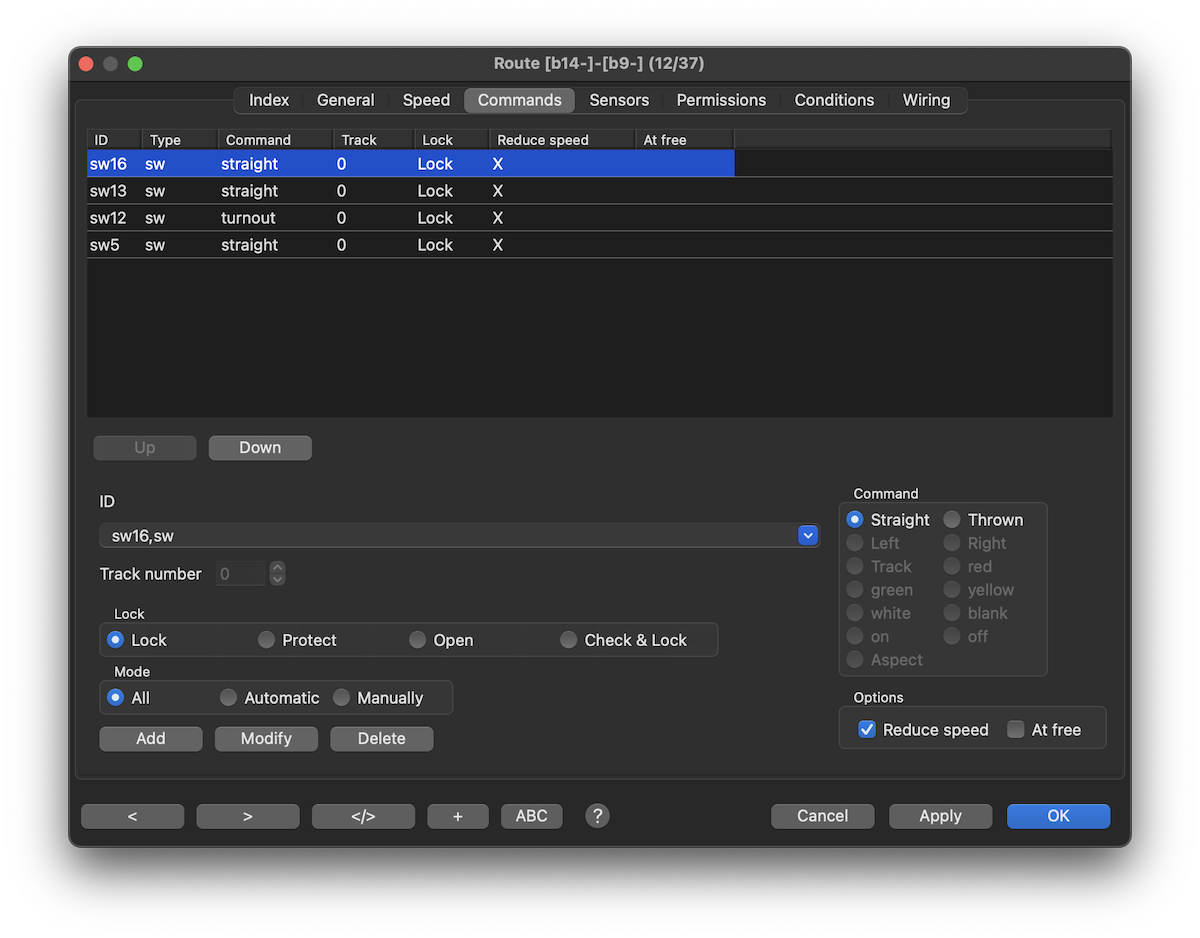 Wissel ID
Selecteer van een lijst van alle bestaande wissels en draaischijven het ID dat je wenst te gebruiken dat actief dient te worden in deze route.
Spoor
Als een draaischrijf ID gelesecteerd is, kan hier het draaischijf spoornummer ingegeven worden.

Vergrendel,Lock
Haal alleen dit vinkje weg als het wissel uit voorzorg is gezet en niet bij deze route behoort !
(Deze functie werkt alleen als het wissel niet door een andere trein vergrendeld is.)
In alle andere gevallen moet het vinkje blijven staan ter voorkoming van ongelukken.

Deze optie kan gebruikt worden om te voorkomen dat een trein die niet tijdig stopt voor sein s2 door schiet via w1 en w2 en op het spoor terecht komt waar het sein groen voor staat.
Toevoegen
Selecteer de gewenste wissel ID vanuit het combobox, zet het gewenste commando actie en druk Toevoegen. Voor enkelspoel motorwissels kan je enkel kiezen tussen Rechtdoor of Afslaan. In geval van 2 motortypes zullen de Linker en Rechter commandos actief zijn.
ToDo: How to name the commands in case of threeways and double crossings? Threeway: left, straight, right? Double crossing: straight east, straight west, thrown east, thrown west?
Verwijder
Selecteer een wissel uit de listbox en druk op de Verwijder knop.
Verander
Selecteer een wissel uit de listbox, verander het commando en druk op de Verander knop.
route-turnouts-nl.txt · Last modified: 2019/08/28 09:30 by vt601
---