Content → Rocview → Control Dialogs
A dialog for testing the (undefined)sensors.



If testing a new layout the monitoring of not yet defined sensors could be very helpful to determine the reported address.
Initially the list is empty and fills only after one or more sensor events which came in after Rocview was started.
A double click on a known sensor will open the sensor dialog.
By default the sensor monitor only works if the automatic mode is disabled. This can be changed in the Rocview properties.

Manually refresh the list.

Reset all counters of the selected sensor.

Assign the code of the selected sensor event to a Locomotive or Car.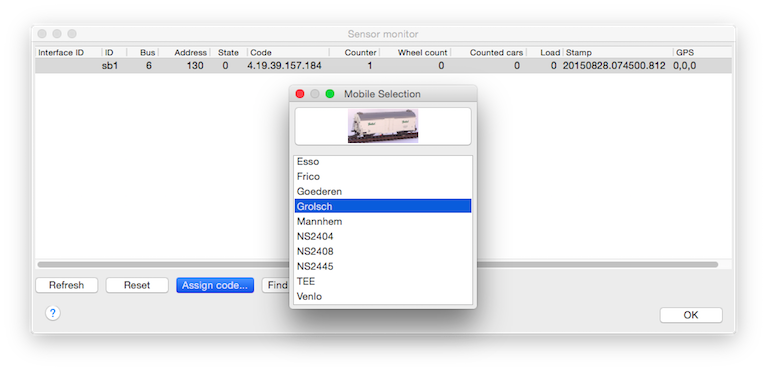 The loco selection dialog will show all locos and cars even if the address is set to zero. Just select a loco or car and click on the image to assign the code.

Find the code in the loco and car list: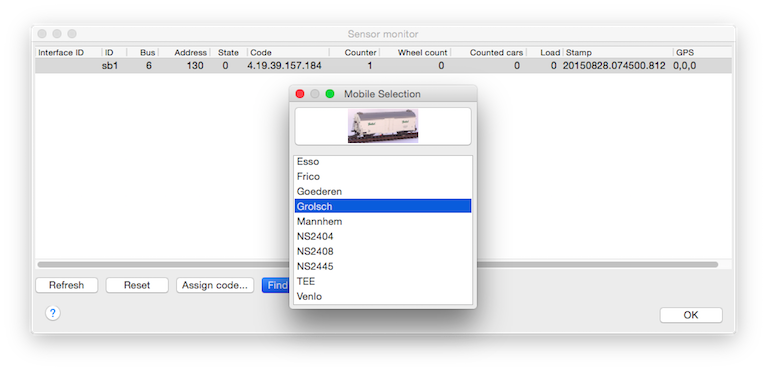 The mobile selection dialog will be opened if the code was found.

Clear all events in the list.

Export all sensor events as XML in the Rocrail plan.xml format.

<plan

>


  <fblist

>


    

<fb

 ...

/>


    ...
    

<fb

 ...

/>


  </fblist

>


</plan

>
Import all sensor events from XML in the Rocrail plan.xml format.
Note: This will clear the existing sensor events.


Auto refresh on sensor events.

Shows undefined and defined sensor events.

State and counters.

Load. (BiDIB, RocNet&ADC-Sensors)

Code. (Railcom, RFID, …)

Sortable on all columns, inverted by second click on same column.

Drag&Drop: The Bus and Address value of the selected sensor event can be used to assign to an existing sensor object in the track plan.
A drop on a free place in the track plan create a new sensor object after the input of its ID via dialog.