Up to 128 Channels for servos, signals, semaphores and lighting.

Up to 128 I/O and more possibilities based on Raspberry Pi on RocNet with professional GCA boards and kits.
"An independent and open source solution to control a model railroad."

Testing and controlling the RocNetNode I/O and optional command station functionality.

Automatically adjust the acceleration, CV3, depending on the assigned train.

A simple dialog for testing the (undifined)sensors.

Date: 10-06-2013

Revision: 5413
Renaming a Route ID or other object IDs is now "partly" automatically supported by changing also the dependent objects through out the complete layout (data model).

Date: 02-06-2013, 19-06-2013

Revision: 5363, 5441
Block Brake Timer for smoothly reduce speed between the enter and the in event.

Maintain stationary DCC decoders and use RocPro to program.

Record Rocview user interaction for play back purpose.

Show current, voltage and temperature in a scope like panel.

Alternative throttle with icons.
Creating trains on the fly with automatically calculated length for use in blocks and routes.

For fine speed step control a new option has been added to use buttons instead of a slider.

Date: 08-02-2013

Revision: 4635
Roco Z21 support with the new LAN protocol.

Analyzer: Reorganized extended plan checks and clean. Added action and action condition checks.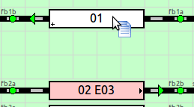 Compose a block trip by Drag & Drop.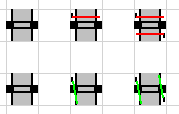 Support for railroad crossings with any number of tracks.

Create temporary Loco objects for guest Locos with the andRoc mobile client.



→ Goto previous news page 2013
→ Goto previous news page 2012
→ Goto previous news page 2011